Turn on the SOUND----
Surprise how do like the tune? This song has special meaning to me. Not just because it was by the group AMERICA and Dewey Burnell who wrote the song said its about
leaving
...in the lyrics when he asks..."how long you gonna stay here Joe" he was referring to the cold plains of Nebraska where he grew up and thinking of moving to California where he longed to be..."alligator lizards in the air"..that line brings to mind cloud formations he saw in the sunshine...but I'll explain later why it has meaning to me...enjoy the tune while you read.
I love to travel but
money is the object
--unfortunately--I buy a lotto ticket now and then but so far no wins- the money is just not there to go where I want to go and do what I want to do...and Im sure its that way with most of you. I always look for bargains! The last 2 years I took trips on free air flights using Delta Sky Miles. Its one way to do it--since we have to buy our groceries and gas anyways...may as well rack up sky miles points for doing so. Currently its 25,000 points to take a domestic trip if you are willing to make several stops before you get to your destination.
I prefer to drive my own car. Currently my car is a 2001 Chevy Blazer with over 180,000 miles on it! I purchased it when I moved back to SC from NYC in 2006. Its still in good condition, still gets me where I need to go, most of those miles are highway miles put on by the previous owner probably a work commuter.
11 years ago my Mom and I made a fantastic journey around America in my 1994 Ford Explorer. It had 115,000 miles on the odometer when we left and we when we returned it read 123,064. Dont bother doing the math it was 8,064 miles.
It was a thrilling adventure and the car never gave one bit of trouble. We stopped along the way for oil changes every 3,000 miles and the memories fueled by that trip have kept me going mentally for many years--when life starts to get me down I zone out and go back to one of the wonderful parks we visited (these days its very difficult to find solace in a National Park unless you are willing to get off the beaten path a little). We did that when we drove the
Gold Belt Byway
from Canon City to Cripple Creek and Victor, in Colorado. This wonderful bit of highway is an unpaved road. It took us about 3 hours to make the trip from Canon City where the Royal Gorge Bridge is to Cripple Creek. We stopped for a nice lunch overlooking a canyon. It was fantastic there...you can see a bit of the hood of the old red Explorer in this photo as we approached one of the crude tunnels cut through the rock on the byway. All the photos of that trip were taken with a 35 mm load,point n shoot film cameras. I took the negatives to Eckerds drug store and had reprints placed on cd discs when I decided to build a web page about our trip.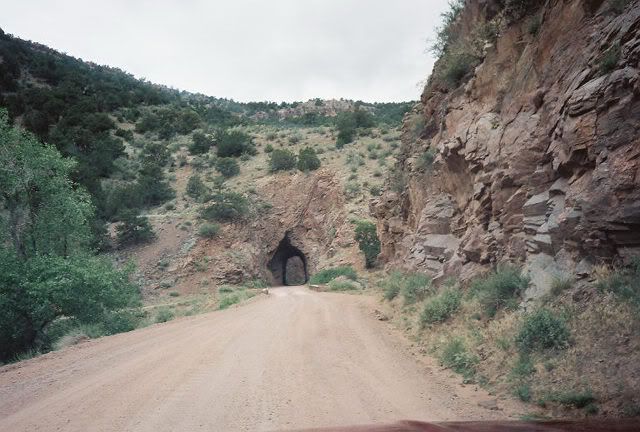 Now as much as I love adventure-- my Mom is the opposite...for much of this trip she was the reluctant traveler...here she is faining a headache due to altitude..she can be a bit of a drama queen...lol-- but she got it all sorted out and had a wonderful adventure after I threatened to drive her to the nearest airport and put her on homebound plane!..lol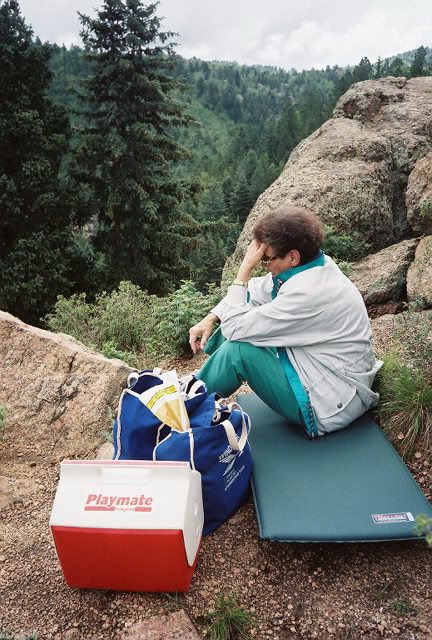 Much of what was going on with her was --fear of the unknown. She was afraid of being lost, afraid of being attacked by man or bear, afraid of the car breaking down, afraid to enjoy our adventure. She finally realized living in the moment would mean letting go of that fear and enjoying whats happening right now....I reminded her we were not lost, we were not being attacked, our car was still running~ so why live the fear of what is NOT happening?? Why be afraid???
Many times she would sit in the car with the doors locked while I was outside the car pumping the gas. I would just shake my head and laugh and she would grin back through the windshield at me, if that eased her fear then so be it. But for 34 days she became fearless and we ADVENTURED anyways!!
Me---im scared of spiders!!!!
You can see she began to enjoy herself...and loosen up a bit as she picked this huge sunflower through the open car window..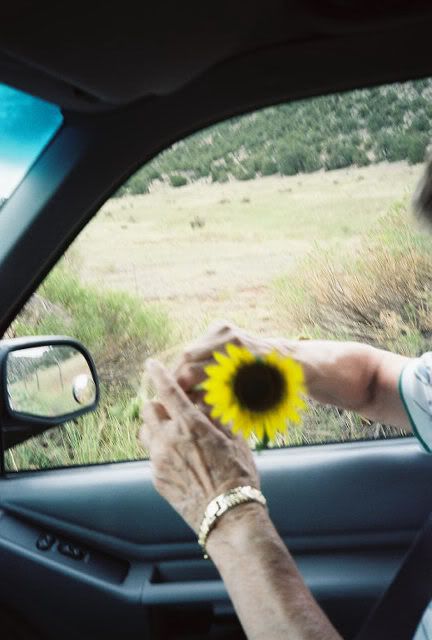 Now why is this song so important to me?... as we drove toward Barstow CA in San Burnardino County just coming out of the Mohave Desert we had to wait for construction they were paving the road...We sat in the heat with windows down and I could see our exit about a half mile up but the right lane was penned off with bright orange cones up to that exit...I took a look into my right side mirror at all of us travelers stuck in that long line and in that instant I made up my mind to jump the barrier and leave the flock...Mom gave me
that look
as I steered around the cones and took off in the "closed" lane...within minutes we had the desert air blowing our hair as we threw caution to the wind and made a B-line to our exit....I took one last look in the rear view at the others still sitting ---but suddenly another car took the same path I had, and then another, and well ---yepp I had opened up the gate and the sheep had left the fold and followed!!!
.... we headed north while the road behind us continued west-- eventually to the Ventura Freeway (hwy 101)---and just as we made that northward swing with the other independent thinkers following our lead this song came on the radio, no we werent on the Ventura Highway but we were dam close ....so it sort of became our theme song for the trip...& I used it for our commemorative website. It gave us a feeling of freedom and independence, and MOM bellowed with laughter as we zoomed down the highway (after her initial shock at her misbehaving daughter who thumbed her nose at the establishment once again!) LOL.
So now when Im listening to an oldies station and this song comes on I'm immediately transported back to 1998 and that long highway and that wonderful trip with my Mom!
Take a lookie see at our
Great Adventure
when you get time...